Welcome to the Audio Events Calendar, a hand-picked overview of audio industry conferences, community meetups, special events & more. Want to list an audio event? Please submit the details here (event name, time and date, location, description and URL)
---
the thing
February 22 @ 09:30

-

23:00

CET
a mini-conference for gamedevs by gamedevs in Stockholm Sweden!
Stockholm boasts the highest concentration of game developers in Sweden, yet lacks One Event to Rule Them All and in the Game Creation Bind Them. the thing is a mini-conference that aims to bring all game developers in Stockholm together, to stand as a venue where you can meet other game developers and make friends and connections, to allow each and everyone of you to share your wisdom, stories and burdens, and much more. In order to support this inclusive space, we expect everyone who joins us to read and follow our Code of Conduct. the thing is friendly, cozy, relaxed and welcoming to any and every kindred soul who wants to make or already makes games in Stockholm!
the thing will take place on February 22nd 2020!
We aim to celebrate the games we build in Stockholm with a full day of lectures and talks about how they are made. Art techniques, Design approaches, post-mortems, tips and tricks, and more will be the focus of our lectures and panels.

Speakers:
Freya Holmér, Neat Corporation
Henrik Jonsson, Goodbye Kansas Invest
2 other fab speakers TBA!!!
along with yours truly – Linnea Östedt Harrison and Laura Bularca to kick off the event!
Roundtables:
Indie Roundtable hosted by Landfall, Valiant Studios, and Raw Fury
VFX roundtable hosted by DICE, Avalanche and Ubisoft
VR roundtable hosted by Neat Corporation, Resolution Games and Fast Travel Games
Audio roundtable hosted by Two Feathers and DICE
3D Art roundtable hosted by Machinegames, DICE
QA roundtable hosted by Paradox, DICE, and King.
Mobile Games roundtable hosted by Toca Boca, King, and MAG Interactive
Design roundtable TBA






What, How, Why
the thing is a one day mini-conference for the Stockholm GameDev community to share knowledge and have fun talking about the awesome games we make. We plan to:
Host a bunch of valuable lectures that will give you a boost in succeeding as a game developer
Organize a friendly mingle space with creative corners where you can make your own badge to represent you as the unique and creative game developer you are
Kickstart the day with a Women In Games breakfast where minorities find a safe and friendly space to be
Arrange a showcase area where you can show and play each other's games if you want to
End the day with a Link in Bar gamedev party, open for all!
Prepare and distribute a Stockholm gamedev care kit containing the various groups, safe spaces and tiny events happening around the year
Have several round tables for specific disciplines where you can informally share your thoughts, plans and ideas regarding games in general and making games in Stockholm in particular
Get together aspiring game developers, established game developers, publishers and investors so you can get a sense on what the Stockholm gamedev scene has to offer and so that you can forge those much needed connections you need to get a job or a tiny boost for your gamedev career
…and the most important goal – enable the creation of new and life long game development friendships between game developers in Stockholm
connect
We will have plenty of places at the conference space to grab a fika and reconnect with fellow gamedevs, as well as a breakfast for Women in Games before the whole thing starts. We will also finish the day with a party to celebrate our industry in style! No conference ticket required for the after-party. Just show up and be cool.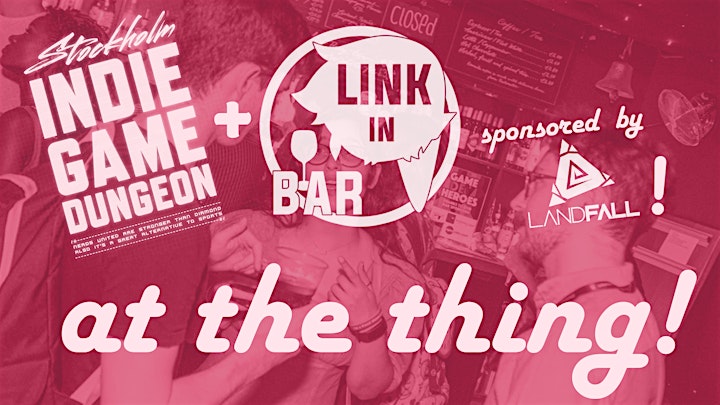 PARTAAAYYY!!!!
the thing will finish off the day with a Link in Bar (organized by Anna Jenelius) event sponsored by Landfall, which also is hosting the awesome Indie Game Dungeon (organized by Anton Albiin of Dataspelsbranschen) these events will be open to anyone, and you will not need a conference ticket to get in.
The people behind the thing
GameDev Force is the official organiser of the thing. This has been a long and strategic decision because we want to keep the thing neutral and welcoming to absolutely everyone. There are, however, a handful of wonderful people and generous companies helping GameDev Force to organise the thing, such as Valiant Game Studios and Landfall!